On this page you will learn how to navigate our website and use all of its features.
How to see the different areas

At the top of every page you will see the buttons below. You can also access them on the home page. Click on each button to go to that section.
HOW TO – How to use this website, it is the page you are reading now!
NEWS, GUIDES & CODES – We regularly post the latest news and updates about Adopt Me. We also write guides to help you win the game and answer your questions. Also, we check for game codes and post them here when available. Check this area often!
TRADING FORUM (Coming Soon) – Trade with other players on our special forum just for the Adopt Me game!
FUN CORNER – Fun activities relating to Adopt Me. Word Search, Puzzles and Crosswords to test your knowledge of the game! We will add new stuff regularly, so check back often!
How to see the Adopt Me Trading Values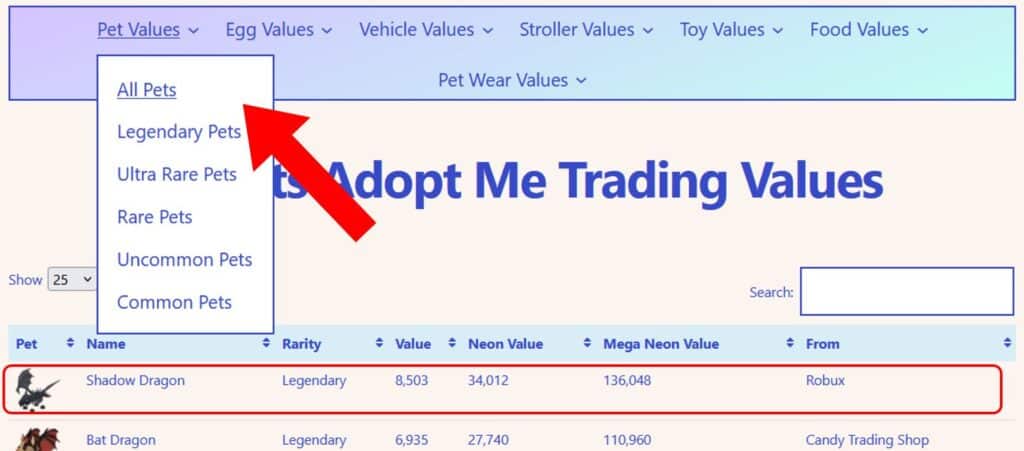 At the top of every page you will also see our main menu for Adopt Me Trading Values. The values are categorized into Pet Values, Vehicle Values, Food Values and so on. You can click on each category to go to the value list.

You can also hover over each category to reveal a drop-down menu, with values sorted by rarity. We have values for Legendary, Ultra Rare, Rare, Uncommon and Common rarities.

When you are on a page showing trading values, you will see a table with all the pets or items in that category. You can see a picture of the pet or item, its value, as well as things like where it is from. They are always sorted from highest value to lowest value.

If you click on the table headings you can sort things like the name by alphabetical order (this will change the order of values).

You can also select how many pets or items you want to see at a time, and also search for a pet in the field above the table.

At the bottom of the table you can go to the previous or next page in the values list.