Have you heard about Traderie? It's a website that you can go to, in order to trade Adopt Me items with other players!
What is Traderie?
Traderie is a website in which players of games, such as Adopt Me, can trade with other players online and around the world.

The trading items can include pets, toys or potions for example – basically any sellable or tradeable in-game item.


How to use Traderie?
First, you must go to https://traderie.com/ and create an account. Then, you select the game you want on their front page.

If you are looking to sell or trade away an item you already have, you can put up a listing. Then, other players can make an offer which you can accept, or reject. You can also message buyers.

If you are looking to buy or trade for an item you don't have, then you just need to search for it in the search bar. You then have the option of making an offer to the seller. You can also message the seller.
How to get a win trade for Adopt Me on Traderie?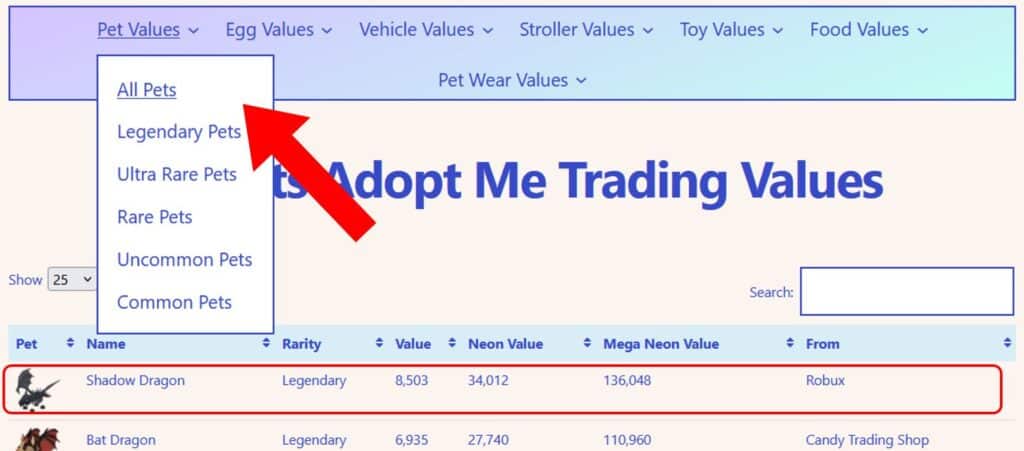 The first step is to find your trade values on our website. You can see our huge list of values, sorted by category, in our menu at the top of every page. For example, our Pet Values here.
Then, follow our WFL (Win Fair Lose) Guide
Finally, you can now have a win trade!
What games is Traderie for?
Traderie enables trading for heaps of Roblox games, but there are also non-Roblox games such as Pokémon and Rocket League. The complete list of games supported by Traderie are shown below:
Roblox Adopt Me
Royale High
Roblox Murder Mystery 2
Rocket League
Diablo II: Resurrected
Roblox Blox Fruits
Roblox Pet Simulator X
Roblox Jailbreak
Wild Horse Islands
Roblox Grand Piece Online
Elden Ring
Pokemon Legends of Arceus
Animal Crossing: New Leaf
Roblox All Star Tower Defense
Roblox Dragon Adventures
Roblox Survive the Killer!
Roblox Welcome to Bloxburg
Roblox Creatures of Sonaria Roblox
Roblox Overlook Bay
Roblox MeloBlox RPG
Eve Online
Roblox A Universal Time
Roblox KAT!
Roblox Squishmallows
Roblox Your Bizzare Adventure
Hypixel Skyblock
Pokemon Sword & Shield
Roblox Flee the Facility
Roblox Breaking Point
Roblox World Zero
Roblox Islands
Roblox Bubble Gum Simulator
Animal Crossing: New Horizons (ACNH)
Animal Crossing: New Horizons
What can't you do on Traderie?
The main thing to remember is that you cannot trade or sell game items for real money. You can only trade in-game items for other in-game items or in-game currency. On their "About" page, they specifically mention that they are not a black market site.